Resource management is not my forte, but I need resources for my business! How can I find my way around this never-ending issue?
Could you resonate with this? If yes, you will find your solution by the end of this life-saving manual. Thank us later!
When you start a business, you come across several crucial functions which might not be related to your core work. Most of your business's success ultimately relies on how well you handle everything apart from your core functions.
Over the years, businesses have strived hard to find ways around resource management. In the quest for optimized productivity and an energetic work environment, companies keep looking for agile ways of resource management. However, we can ace Human Resource Management by leveraging the latest technology.
HRMS is Human Resource Management Software that enables several HR functions using the latest technology. It aims to maximize the productivity and efficiency of the business by automating several unproductive and repetitive tasks.
Besides that, HRMS software frees the HR wing from unproductive paperwork so they can focus on other essential areas of human resource management. The additional bandwidth of free time makes all the difference for a business organization to focus on more strategic functions enabling recurring growth on every level.
By the end of this guide, you will completely understand the following aspect.
The standard functions of the HRMS system
Benefits of using
an HRMS
Confluxhr-simplifing it all for you
Standard Functions of HRMS Systems
Human Resource Management is one of the most crucial functions of every organization that ultimately adds to employee efficiency in alignment with the organizational goals and objectives.
Human resource management includes several systems and policies that primarily focus on managing resources within the organization. Here are a few sub-functions of HRMS that helps in automating a massive chunk of unproductive HR task-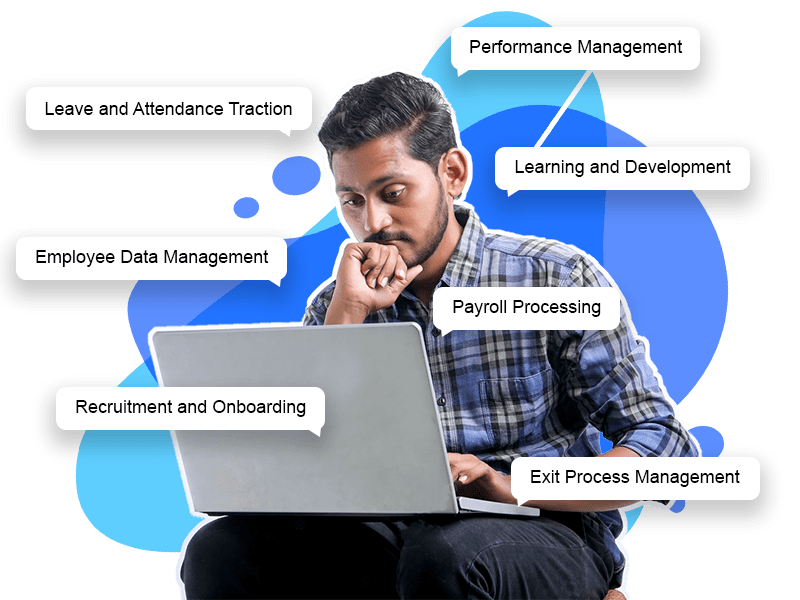 Recruitment and Onboarding:
There has been n number of databases for talent search, but what next? The main trouble lies in tracking candidatures, interview rounds and collecting feedback from the interviewer. The process is even manageable when you have a handful of openings, but if they are plenty, recruitment is almost nightmarish. A dedicated HRMS system plays a huge role in streamlining the process. It makes candidature management easy, synchronized, and hassle-free.
Employee Data Management:
Employee data management refers to employee data collection, organization, retention, and traction. Every organization is entitled to manage employee data safely without any data breaches. HRMS helps in efficient employee data storage and management.
Leave and Attendance Traction:
Leave, and attendance traction is a tedious and inescapable task. You maintain a record with minimal effort, which ultimately helps you generate payroll without hassle. Accurate leave and attendance traction ultimately help an organization stick to the statutory regulations.
Payroll Processing:
Payroll processing is a crucial activity for organizations and employees. When you have resources, you need to pay them off. Besides statutory compliance, payroll processing also impacts employees' trust factor. A dedicated HRMS helps you automate the payroll processing at the end of every month.
Performance Management:
Performance Evaluation is an organization's systematic activity determining an employee's professional growth in a particular time frame. A dedicated HRMS platform helps predefine goals and focuses on agile performance assessment.
Learning and Development:
They say if you want to grow on an organizational level, focus on the professional growth of your employees. Upskilling is one of the promising ways of development, and HRMS software can make it easier for HRs to decide, schedule and manage employee training programs.
Exit Process Management:
If not any benefit to the organization, the exit process contributes to word of mouth for your firm. A pleasing exit experience leads to excellent work culture. An HRMS can help you synchronize the operation of exit management and release employees with all formalities.
HRMS has lately been a revolutionary change in the human resource management space. It has helped businesses make the most out of their HR wings apart from being stuck in the paperwork. Opting for an HRMS is more likely a way forward to an agile way of resource management. Here are a few areas where an organization can outgrow using an HRMS.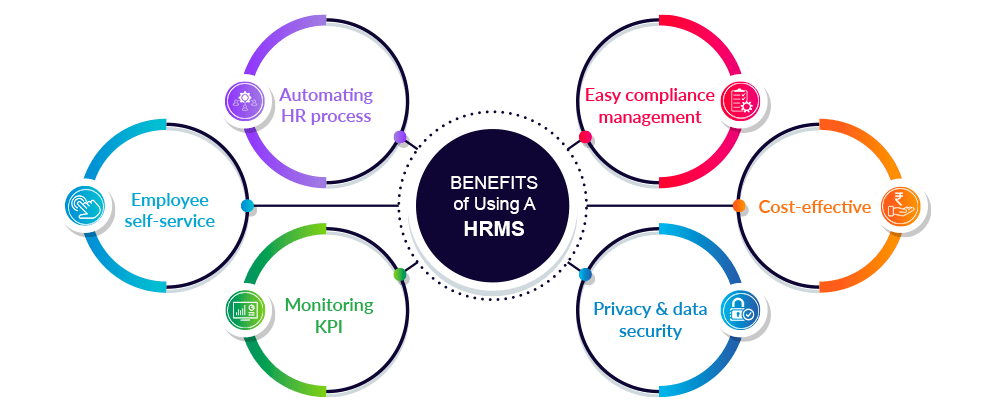 Automating HR process:
Most HRs have the fullest potential to revolutionize the workplace with commendable approaches, but they tend to be busy with paperwork and routine tasks. An HRMS usually helps automate everyday HR tasks and paperwork, freeing HRs to focus on more strategic and vital functions.
Employee self-service:
Employee self-service is one of the most promising benefits of adopting an HRMS for resource management. HRs face a tough time addressing all the issues of the resources. However, an HRMS is a good solution that enables employees to be self-dependent. They can check their leave buckets and HRMS, download their pay slips, keep tracking their monthly performance review and more.
Easy compliance management:
HRMS plays a massive role in business transformation. The higher management must take strategic decisions and form policies adhering to statutory compliance. HRMS helps maintain a conducive environment and form policies that save the organization from legal obligations.
Monitoring KPI:
There are a series of Key Performance Indicators (KPI), which are the ultimate measurables of employees' productivity. These KPIs can be a set of routine tasks and other areas depending on the organizational goals. An HRMS helps in monitoring KPIs accurately, which ultimately aids in performance reviews.
Cost-effective:
Businesses undoubtedly require a scalable solution for their ever-growing team, and HRMS is an agile & futuristic approach towards resource management. It enhances the productivity of your HR wing by freeing them up from the never-ending paperwork and routine HR tasks. Hence, it also saves the utilization of extra HR resources for daily tasks.
Privacy & data security:
Privacy and data security are foundational requirements of a business. An HRMS enables organizations to manage employee data safely. Besides data safety, HRMS software also serves as an organization's central data storage platform.
Using an HRMS can serve an organization's great purpose in innumerable ways. An HRMS can make employee management a cakewalk from recruitment and onboarding to exit and separation.
Imagine the corporate world a decade ago. Isn't it nightmarish? The change-makers, thinkers, and HRs across the globe were responsible for such a massive through-leadership renaissance. However, the mere shift of power from the employer to the employee was not an easy transformation.
Human Resource Management Software was another milestone in the corporate world. However, a few HRMS trends still dictate the corporate arena, making resource management more accessible than ever.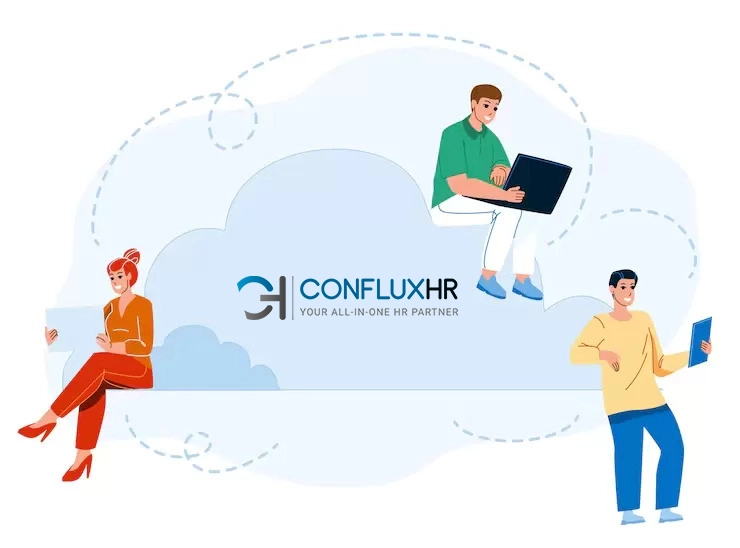 Let us run through a few dominant HRMS trends that have successfully called for a massive change in the domain-
Mobile access to the software:
Nowadays, the world is accessible through smartphones, so why not an HRMS? A Human Resource Management System is as good as its mobile version. Using HRMS on the go is an upsurging trend that adds to the convenience of employees in the organization.
Data-driven tools for decision making:
Data is an asset in today's world. HRMS tools have been hugely beneficial in solidifying decision-making through data-driven tools that help evaluate accurately. For instance, the performance management module of an HRMS allows for decision-making processes like appraisals and promotions of employees.
Workforce analytics:
Workforce analytics is a guiding force for companies to ensure diversity and inclusion in the organization. It is a trend that lends a helping hand to the HRs to understand discrepancies in an inclusive work environment clearly.
Regular feedback through HRMS:
Regular feedback is an excellent way towards employee retention. HRMS software helps to pass feedback to subordinates based on their performances. A transparent performance management process is the need of the hour, and HRMS can play an instrumental role in achieving that.
A promising communication gateway:
Gone are the days when we used to blame employees for their inability to communicate. The modern world embraces flaws and accepts the fact that everyone is not comfortable with conversations. Hence, HRMS introduce a more trustable communication gateway where employees can request one-to-one discussions with anyone in the organization.
Cloud storage of data:
Cloud data management software is an indispensable asset for the corporate arena. From candidatures to employee data, HRMS can help you make every resource management data trackable.
ConfluxHR- Simplifying it all for you!
The all-in-one HR suite, Conflux is packed with smart intuitive features that save time and money, while taking care of your sanity! This HRMS platform is built for local businesses that streamline tedious HR processes and improve the employee experience.
This HRMS provides solutions to improve employee onboarding, engage and manage your employees. The solutions are designed to automate manual HR processes, deliver an enhanced employee experience, and manage the entire employee lifecycle. Features include employee feeds, announcements, an employee directory, and holiday & leave management.
From Onboarding to Offboarding ConfluxHR got everything you could ask for.
What is HRMS ?