The term "leave management" refers to managing employee leave requests. To name a few, it includes sick/casual leaves, parental leaves, and menstrual leaves. It may also be known as time-off administration.
The ultimate purpose of this is to ensure that employees may enjoy their perks without interfering with business operations.
What is a Leave?
A Leave is just taking a day off from work after notifying the management formally and, in some instances, informally.
Leaves are days off from work and holidays that employees are e ntitled to, according to the leave policy. In a given year, an employee is entitled to many sorts of leave.
Managing employee leaves is a critical HR function that every firm must perform. A few prevalent concerns plague the founders of new businesses, SMEs, SMBs, and newly minted HR professionals, such as:
Do you wish to understand what leave management entails and put that information to use? You've come to the correct place. While leave management is straightforward compared to many other HR practices, there is still much to learn.
What is Leave Management?
Leave management is the administration of employee leave, by following corporate policies, not just for statutory compliance but also for improved employee engagement, productivity, and employer branding. Leave management is divided into three categories: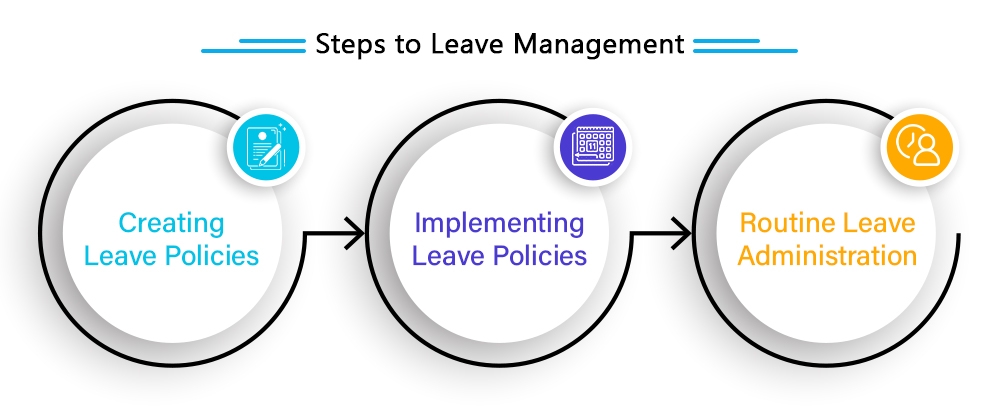 What Are Leave Policies?
Many small enterprises lack formal leave policies. It is only easy to enforce policies with properly formulated laws. For these policies to work, you must integrate them at the organization's core.
Creating effective leave policies necessitates a deep understanding of the statutory laws that apply to your domain and locality. While compliance is essential, a leave policy must balance corporate goals, employee requirements, and engagement.
Employees are entitled to a variety of sorts of leave. As a result, multiple regulations for different kinds of the holiday are a necessity. Policies may also differ depending on the level or category of work.
Several factors must be considered while developing a leave policy:
Leave Types
Leave Rules for Each Leave Type
Public Holiday Calendar
Different Types of Leaves
The state government governs the different types of leaves and the number of leaves granted each year. Some of these leaves are earned, and employees can carry the balances the following year. Other types of leave expire at the end of the year.
The many forms of leaves mandated by the government or willingly offered by the company are listed below: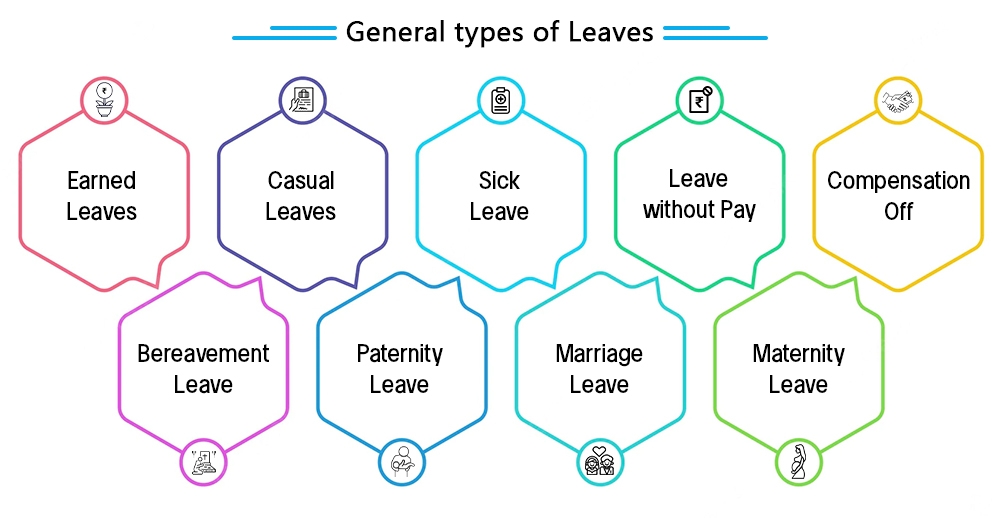 Earned Leave (EL) or Privileged Leave (PL)
Employees earn these leaves by working for a specific period in an organization. Some organizations, for example, provide 1 EL for 23 working days or 1 EL for 15 working days.
Employees can also encash this leave. Employees can take these leaves without incurring any salary reductions if they obtain prior consent from the management (except during emergencies).
Casual Leave (CL)
These are temporary leaves that must be approved by management in advance. An employee can take 3 to 7 days of casual leave at a time, with the number varying between organizations and industries.
Sick Leave (SL)
Employees can request these leaves if they become ill and cannot work. The organization may compel employees to present a medical certificate if the number of sick leaves taken in a row exceeds a certain threshold.
Leave Without Pay(LWP)
Employees can take absence against pay in emergencies after exhausting their leave balances. This is often called "Leave Without Pay (LWP)." However, if the leave policy allows it, employees can apply these leaves to future leaves.
Compensatory Off or Comp Off
Employees who work on holidays are compensated with additional leaves that are less than the number of holidays worked. Each organization has its policy about compensatory time off.
Maternity Leave (ML)
Women employees in India are entitled to 26 weeks of paid leave for pregnancy if they worked for at least 80 days in the 12 months before the delivery date. However, after the first two children are born, the eligibility period is reduced to 12 weeks.
Marriage Leave
It is not a legal right in India. Employees may be allowed between one and fifteen days of leave, with most employers providing three days. Furthermore, this leave can only be used once (first marriage at most companies) during an employee's whole job time.
Paternity Leave
It is a sort of leave provided to the father of a newborn baby to care for the infant and the mother. According to corporate policy, leave entitlement can range from 2 days to 4 weeks.
Bereavement Leave
It is a leave of absence offered to an employee when a family member dies so that the employee can participate in the final rites, attend to personal concerns, and grieve. According to corporate policy, leave entitlement can range from 2 to 20 days.
Holiday Calendar
Companies are required to give their employees between 8 and 14 public holidays in addition to paid leave. After each year, the individual state governments publish the official list of public holidays. Then, businesses must declare that their public holiday schedule aligns with the government's list.
Employees take personal time off as needed according to their convenience, but the entire business is closed on legal holidays.
After healthcare coverage, paid time off (PTO) is one of the most desired perks of working in a company.
How Can a Leave Policy Help Your Business?
Defining leave policies is one of the significant disciplinary moves for an organization for proper regulation. Hence, with a pre-defined leave policy, you can assure your employees that they can ask for leaves when they have to:
Take care of any issues
Have time off for vacation
Recover from an illness
Celebrate festivals
Deal with various life events
Take a break from the mundane work
Fact: Your leave policies also have an authoritative impact on employee engagement. Above all, leave policies also define the Do's and Don'ts for employees while applying for a leave.
Employees can have various kinds of leaves in a financial year. Therefore, the leave policy first needs a proper categorization. The categorization and number of leaves might vary from multiple levels of hierarchy in the organization.
Policies on Leave Management
An effectively written leave policy helps to implement such restrictions and preserve organizational discipline more straightforwardly. Creating a successful leave policy for employees and employers requires extensive research, consideration, and diplomacy.
One must be well-versed in the legislative requirements applicable to the region and sector. As a result, developing a company's leave policy framework is influenced by three major factors: regulatory compliance, employee needs and engagement, and corporate interest.
Leave Regulations
The most crucial part of leave is a set of regulations that control the entire policy. These regulations govern different aspects of leave management, such as the amount of leaves taken, eligibility, frequency, carry-forward periods, etc. The government or the firm establishes these controlling guidelines.
Is There A Need For Leave Management?
Leave management is a critical activity in benefits administration that is required for a variety of reasons:
Record Keeping is Required for Statutory Compliance
Operations and Planning in Business
Analytics and Reporting
Avoid Revenue Leakage
The Need For Statutory Compliance
Apart from providing paid leaves to employees, employers need to maintain proper records of the leaves granted to employees from a compliance angle. Different states in India necessitate additional compliance requirements while developing a leave policy.
Record Keeping
Even if there is no legal necessity, tracking employees' paid leave is highly desirable. It is easier to enforce and implement a leave policy with reliable record keeping.
Employees require clarity and complete information about the leave policy, entitlements, leave balances, and transaction history because paid leave is an employee benefit. Failures in these areas result in dissatisfied employees, mistrust, and the degradation of the employer brand.
During the full and final payment of employees, the need for record-keeping becomes starkly apparent. A lack of accurate records or a procedure for encashing accrued paid leave is a recipe for employee conflict.
Business Operations & Planning
Imagine a situation where someone is on leave on any given day in large teams; this does not hamper the business. However, if most team members leave simultaneously, the job is hampered.

When authorizing leaves, a manager must review the day's roster and decide whether to approve or reject that employee's leave. Again, a sound leave management system can be beneficial in this situation.
Reporting & Analytics
Reporting on leave is a specific need for both management and compliance. This can become a miserable experience every month unless a suitable leave mechanism is in place.
A proactive HR professional should track absenteeism and spot leave-taking patterns indicative of disenchanted personnel.
However, correct and up-to-date information is required for us to generate insights.
Challenges to Leave Management
We run into a slew of problems if we don't have suitable leave management processes. If you encounter any challenging instances, it indicates that you need to improve your practice.
An employee is absent without the manager's knowledge
The HR manager approves a leave before checking in with the manager
Unforeseen Leaves and Casual Leave Without Prior Information
Leave Accounting is Erroneous
Employees Take Significantly More Leave Than They are entitled to.
Approvals are delayed, causing the employee concern, annoyance, and financial damage.
For leave queries or approvals, an employee must contact the HR administrator or manager several times.
Your organization can break down all of these issues into the following broad challenges:
Low Productivity
Subpar Customer Service
Inadequate Holiday Planning
Employees Lack Trust and Motivation
Employee Dissatisfaction
Absent Without Permission
Revenue Bleed
Seamless employee leave and attendance management seem like a dream come true. However, an HR manager has to take care of a lot of aspects beyond simple payroll management and employee lifecycle management.
Routine Admin Activities in Leave Management
Creating a leave policy is a one-time event, but enforcing them is a full-time HR responsibility. Here is a list of everything an administrator must do as part of their leave administration responsibilities:
Leave Accounting
To understand leave accounting, consider comparing an employee's leave account to a bank account. A savings account at a bank deals with money, but a leave account deals with leave balances.
A bank account has a single bank balance. However, a leave account must maintain track of leave balances for several types, such as Earned Leave, Sick Leave, and so on.
Like a bank account, the leave balance grows as leave is earned or granted regularly, following the leave policy. When an employee takes a vacation, the leave balance decreases.
Several leave transactions can either boost or decrease the leave balance:
Grant (+)
Avail (-)
Encash (-)
Lapse (-)
The primary function of an HR administrator is to track all leave transactions for each employee meticulously. It's also a legal obligation.
Along with the leave transactions, the administrator must keep track of the net leave balance for each type of leave. Individual leave transactions must match the leave balances.
While many leave kinds are granted annually or monthly, certain leave types are discretionary. There is no leave balance for these absences, and employees can take them under specified conditions.
Leaves Allowance
Every year, employees are entitled to a certain number of leaves for Earned Leave, Sick Leave, and other reasons under statutory laws.
Leave allowances are granted in lump sums for the entire year or monthly. Most businesses prefer the monthly option because it streamlines the final settlement process when staff leave.
When you offer leaves monthly, an employee may need to depart more than their current balance yet still stay within their annual entitlement. In such cases, employers may approve overdrafts and allow employees to run a negative balance.
End-of-Year Activities
The leave balances are carried over to the following year at the end of the leave year. Again, there are federal regulations in place. There is, however, a limit to the amount of leave balance that an employee can carry forward.
So, what happens to leave an employee cannot carry that over to the following year? Depending on your organization's leave policy, it is encashed or lapsed.
Aside from closing the books for the year and managing leave balances, the HR admin must create the holiday schedule for the following year.
Employee Service Desk
Employees will need information, coaching, or transactional support to manage their leaves, just like they do with pay or any other employee perk. They will also have questions about the leave policies or their leave balances.
Accurate accounting and prompt service are vital in every support job. Otherwise, this is a significant source of employee unhappiness, mistrust, and productivity loss.
Monthly LOP Advice
There are times when an employee's balance is depleted, but they need to take time off. Employees have the option of taking Leave Without Pay in such instances.
Employees who arrive late or leave without permission are penalized in factories and other organizations that operate on rigorous work schedules. A leave deduction or a LOP leave transaction is one sort of punishment.
The HR administrator must offer LOP deduction guidance on time to avoid payroll processing delays in larger firms where the Finance team administers payroll.
Management Information System Reporting
As a good accounting practice and from a management control standpoint, the HR administrator should prepare monthly MIS reports on leave balances and leave transactions. The administrator prepares the following reports:
Leave Summary Report
Monthly Leave Transaction Report
Leave Balance Negative
Report on Leave Encashment
Leave Balances
Report on Annual Leave
These reports are typically statements for a single employee or all employees. Apart from this, analytical reports can also help discover leave-taking tendencies or absenteeism.
Apart from regular reports, there is always the requirement for ad-hoc reports when needed.
HR Software Tools For Seamless Employee Leave Management
A solid information system is required for professional leave accounting and record-keeping. The easiest and most time-consuming method is to use spreadsheets such as Microsoft Excel or Google Sheets.
However, purpose-built leave administration HR software tools are required to reduce the HR administrator's labour and automate the entire process.
We have two kinds of software tools for two types of users.
Admin Platform for HR managers
Employee Self-Service Leave Platform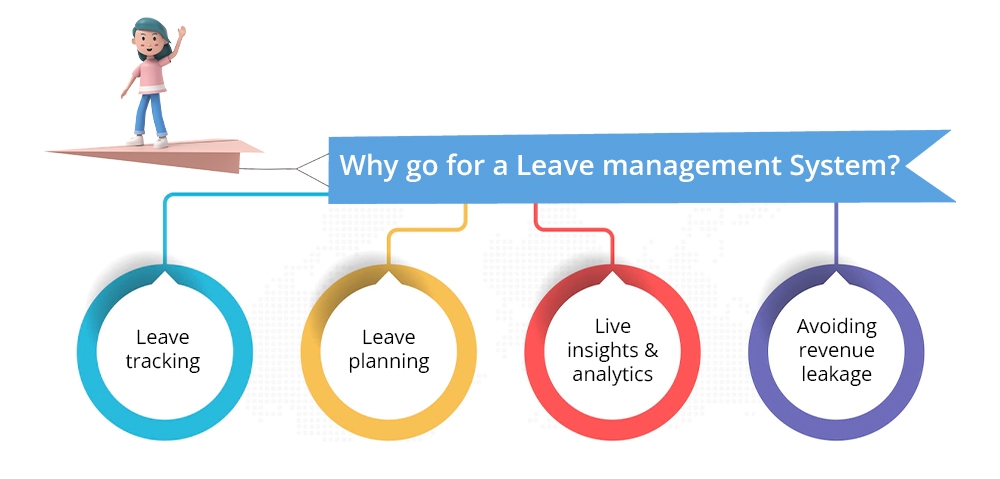 Admin Tools
The Attendance and Leave Management module automates the leave management processes that an HR manager is responsible for. It covers leave policy configuration, leaves rules algorithm, leaves accounting, tracking employee leave applications, year-end book closings, and much more.
A web-based platform is used to access the admin site. Going further, employee information is securely stored in a cloud database. The solutions are priced differently, ranging from free to enterprise-level offerings.
Employee Self-Service (ESS) Leave Portal
Employee leave portals are web-based platforms designed for employees and their managers. Employees can access their leave balances, applications, and the yearly holiday calendar, using the employee portal.
It also automates the leave procedure with the added benefit of automatic policy enforcement. A sound leave management system can assist address numerous problems in leave management and make the HR manager's life easier.
The company that transitions to using an HRMS platform ranks gracefully following these benefits:
Cost-cutting Measures
Efficient Leave Accounting
Improved Employer Brand
Seamless Business Operations
Consistent Policy Implementation
Employee Happiness and Transparency
Efficient Time Management and Organization Development Capabilities
What is Leave Management?